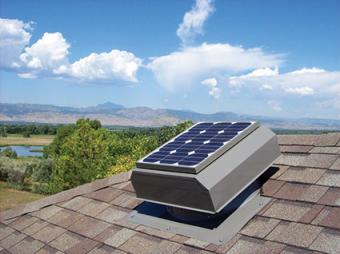 One way to save money and the environment is to purchase a solar power roof vent for your home instead of the traditional electric version. It's cleaner, safer, and more efficient. Solar vents have no operating costs, so they eventually pay for themselves, allowing your only investment to be the initial purchase of the vent itself.
How the Vents Work
Roof vents help circulate the air in your attic, preventing heat from building up. They help to push hot air out of your attic, lowering both the temperature and relative humidity in the space. Running a powered roof vent, as opposed to a passive air vent, helps move air more efficiently, which can cool your entire house in hot weather, while also helping to prevent problems that humid air buildup can cause, such as mold and rot.
Solar powered roof vents work identically to electric power roof vents, but because they use solar energy to run, they won't add to your home electricity costs.
Shopping for Vents
Before you buy a vent, you'll need to get some information about your house. The size of your attic, and whether or not it gets direct sun will influence what type and size of vent you need. For example, if your roof gets a lot of direct sun, it will be hotter than a roof that gets mostly ambient light. Therefore, it may need a larger vent or a vent that works most efficiently when the sun is focused on the panel.
Air Vent
Air Vent makes two vents that are solar-powered: one which mounts to the roof, and one which mounts to the gables. Both versions work whenever the sun is visible, rather than waiting for a thermostat to indicate that the attic has already become overheated. Both systems also come with 10 foot cords, which allows the solar unit to be mounted in the most favorable position to catch sunlight. All of Air Vent's products have a five year limited warranty with two year replacement protection.
Solar Dynamics
Solar Dynamics makes five different installation models of their solar roof vents, including a remote-mount model that ensures you can capture the sun's energy even if your roof is in shade, so you can get the model that best matches the needs of your house. All of Solar Dynamics roof vents qualify for a 30 percent tax credit as defined by the American Recovery and Reinvestment Act of 2009. Each unit ventilates attic spaces up to 1800 square feet and comes with a five year limited warranty.
Solar Roof Vent
Solar Roof Vent offers four different sizes of roof vent to fit a number of different attic spaces. All of their roof vents work in ambient sunlight, rather than solely in direct sunlight. This means that you can be more flexible with the mounting of the panels, while getting longer lasting power from each unit when compared to a unit that must be in direct sunlight to function. Solar Roof Vent's fans use thermostats not to trigger their operation, but to tell them when the attic is already cool and when not to turn on; otherwise the fans will run whenever the sun is out. All fans ship for a flat rate of $30 a fan for the first two fans; three or more fans ship free.
Attic Breeze
All of the vent fans sold by Attic Breeze generate up to 1800 CFM of airflow, which is one of the highest amounts of air in the industry for solar or electric powered vents. Solar panels can be either roof mounted or remotely mounted to allow even roofs that are primarily in the shade to get the benefit of a solar powered vent. Installation is designed to be extremely simple so that even the most novice DIY homeowner can tackle it in under an hour. All of their products have a limited lifetime warranty - the best available in the industry.
Solar Star
Solar Star by Solatube makes a 10-watt solar panel that is high-impact resistant to protect it from hail, falling tree limbs, and other hazardous conditions. Solar Star's vent fan is also designed to be quiet so you don't notice its operation overhead. The panels are designed to be easy to install, with most installing in 30 minutes or less. All motors and panels have a five year warranty, while all other parts have a 10 year warranty. All Solar Star panels are also eligible for the 30 percent tax credit.
Perceived Problems With Solar Vents
People frequently point to two perceived problems when arguing against the use of a solar vent - cloudy days and initial cost of the vent itself.
Cloudy Day Issues
One potential problem is that solar vents do not work as well on cloudy days - an argument made against going wholly solar for most buildings. However, solar powered products are constantly improving, so that they can retain energy for hours, days, or more. Also, they don't necessarily need bright, direct sunlight to draw power. Solar power is beginning to be used relatively effectively in often cloudy climates like the northeastern United States, so the average homeowner can feel confident in installing more solar power products. Furthermore, on a cloudy day, the temperature in your attic is likely to be lower anyway, so you don't need as active a fan.
Initial High Cost
The other argument raised against solar powered vents is that they cost more than electrical vents when looking at initial purchase price. This is true, but the savings in electricity costs over time more than outweigh the initial output. Additionally, if you have to have your attic wired for an electric vent, the entire project will cost significantly more than just the purchase cost.
Cool Your Attic with the Sun
Rather than letting the sun heat your attic, put the sun's energy to use for you and let it cool your attic instead. Solar roof vents help to cool your entire home without added electricity costs or invasive ducts. Consider adding a solar roof vent to your home and see how cool your attic can be.