Different Types of Fluorescent Light Bulbs
Most fluorescent light bulbs process energy in the same way to produce light; however this doesn't mean that all fluorescent lights are the same. The differences are generally defined by the color and brightness the bulbs emit, the projected length of time the bulb will function, and the diameter and length of the bulb.
Fluorescent Light Bulb Types
Fluorescent light bulbs have traditionally been a 24-inch, 36-inch or 48-inch 1 ½-inch diameter tube with two pins on each end. Today, there is a wide variety of different types of fluorescent light bulbs -- in a variety of lengths and diameters.
The diameter of the tube is described in eighths of an inch. There are twelve eighths in 1 ½ inches, so a T-12 fluorescent lamp is 1 ½ inches in diameter.
Some of the most common fluorescent light bulbs on the market include:
Fluorescent Tube and Circline Lamps
Tubes and circline bulbs are often used for industrial applications. The light emanating from these bulbs can be distinctive, making them less popular for residential use.
Compact Fluorescent and Screw-Socket Bulbs
These bulbs are the ones most commonly used for residential applications. The light from these bulbs is often engineered to mimic the light of an incandescent bulb.
Special-Use Fluorescent Bulbs
To meet consumer demand for more versatility in fluorescent bulbs, manufacturers have developed a wide array of specialty bulbs to suit various unique occasions.
Fluorescent Light Bulb Colors
The color of a fluorescent light bulb comes from a powdery coating of mixed phosphors inside the tube. The mixture of phosphors determines the color given off by the light bulb. Fluorescent light bulbs come in many colors of white: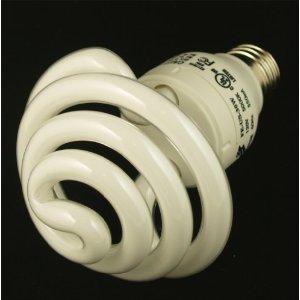 Bulb Brightness
A brand new fluorescent light bulb takes a few hours to achieve maximum brightness. The bulb's brightness will start to decline from that point on. The common 48-inch, 4-watt cool white fluorescent tube starts with a brightness of 3,250 lumens, the measurement for the brightness of light. Within six hours, the brightness of the bulb will have declined to an average of 2,960 lumens.
Making Your Decision
The type of fluorescent light bulb you decide to use should be dictated primarily by the area in which you will be using it. Not all fluorescent light bulbs are made equally. They all have their own specialized uses, and these special characteristics should be carefully weighed before making your purchase.