Composting is a simple step towards green living, and it's also a great way to recycle all those unused kitchen scraps and dispose of garden waste. The resulting nutritious compost works to feed and add nutrients to the soil and plants. Home composting is also a great way to keep waste out of landfills. Compared to the environmental effects of using a bonfire to get rid of waste, composting is a much more eco-friendly option.
Bokashicycle Gray Food Scrap Fermenting System
Bokashi is a composting style from Japan that uses microbes to compost. The composting process is easy. You sprinkle bokashi bran, over the waste material and then give it a stir. The rest of the process is quick and painless as the bokashi does its work. No turning is required. The unit is five gallons, and it is designed to sit in a corner or under the sink - wherever you would store your garbage can. This is currently, the only kitchen-sized composter. Other models that fit in your kitchen are, in essence, storage bins that you can use to take your scraps out to a larger composter.
Buyers should note that after buying the initial kit, you have to keep purchasing the bran. The kit retails for around $54 and a one pound bag of bran is about $10.
Key Features
According to reviewers, the product is:
Easy to clean
Durable
Minimal environmental impact
Easy to use
No odor
Designed to produce bokashi 'tea,' which is great for your garden
Compost Wizard Hybrid Composter Rain Barrel Combo Unit
This "hybrid" composter is a best-selling composter on Amazon. It is unique in that it is combined with a rain barrel. The composter features a sturdy, ribbed design, a brass spigot, and an anti-bug and debris screen. Reviewers rave about this bin, calling the unique combo of a composter and rain barrel super genius. To compost, just roll the Compost Wizard into position, fill it up, turn it once a week with the recess handles, and have compost in as little as four weeks. As an additional benefit, the unit produces compost "tea" for your garden. The unit retails for around $300 at Good Ideas.
Key Features
Wheeled base for easy-turns
Pet and child friendly
Made from recycled plastic resin
Has a handle so it's easy to turn
Holds 52 gallons
Exaco Earthmaker Compost Bin
The Exaco Earthmaker composter is designed to handle nearly any caste-off refuse or waste (kitchen, yard and garden).The composter features three chambers, so the composting material is kept separate and aerated as it breaks down. Approximately once a month, you can slide out the panel in the floor of the bin to release the nutrient-rich compost. The Earthmaker took top honors from ConsumerSearch as the best outdoor composter you can buy; however, it should be noted that the composter is dry and tends to work better in high-humidity climates. This unit retails for around $170 from Amazon.
Key Features
Large capacity
Made from injection-molded plastic
Easy to assemble
Odor control
Holds 120 gallons
Yimby RM4000 Tumbler Composter
The product stands for "yes in my backyard," and it's one of the top selling composters on Amazon. It's perfect for a small yard as it doesn't take up a lot of space. The finished compost will be ready in a few weeks (with turning every few days), and the unit is affordable. The Yimby retails for about $100.
Key Features
Reviewers praise:
Easy access chamber openings, churning paddles, rodent proof
Made from durable, UV-resistant plastic, with recycled content and a sturdy metal frame
The reversible door allows you to track batch stages
Two chambers: you can fill one side with all your yard waste and kitchen scrapes (access the enriched soil from the second chamber)
Adjustable air vent and a sturdy frame
Holds 45-gallons
Worm Factory® 360 Composting Worm Bin
The Worm Factory It is probably the most unique composting system of all, since it uses worms to do its work. Worms are powerful composting agents, capable of consuming pounds of waste every week. You must keep the composting material moist, and follow the instructions to care for the worms. The first tray may take three months to fully compost, but subsequent batches can take approximately a month to compost. This composter retails for around $120. It comes with a certificate to get red wriggler worms, although any subsequent worms you need, you'll have to buy.
Key Features
Reviewers praise:
The unique ventilation system (stacking design) produces faster, odor-free composting
Odor-free
Holds water longer, and contains extra nutrients
Year-round production
Made from post-consumer, recycled plastic
Expansion to 7 trays
The kit includes an instruction guide, a DVD, worm bedding, minerals, thermometer, hand rake, and scraper.
Redmon Compost Bin
The Redmon Compost Bin is one of the cheapest compost bins available and is dubbed by Cheapism as the "best cheap outdoor composter." With four doors for easy access, this bin quickly converts all your kitchen and garden waste to nutrient-rich compost. The Redmon also includes a convenient lift-off lid, so you can easily access the finished compost. This compost bin retails for about $60 and is available at most hardware stores such as Lowe's or Home Depot.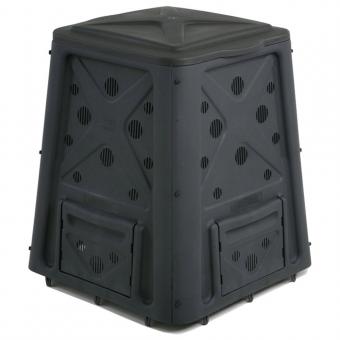 Key Features:
Easy-to-assemble
Light enough to move around the yard
Made from rugged, water-resistant resin
Ventilation holes speed composting process
Holds 65 gallons
Ideal for organic decomposition
Triformis Can-O-Worms
The Triformis is a can-of-worms--in all the best ways! Made from recycled plastic, and stabilized by five legs, this unit combines some of the best features of indoor and outdoor bins, according to ConsumerSearch. The Triformis Can-O-Worms has been featured as part of Oprah's Earth Day Event and was recommended by the LA Daily News as an eco-friendly holiday gift. The Triformis Can-O-Worms retails for about $100.
Key Features:
Made from 100% recycled plastic
The patented stacking, 3-tray design allows you to quickly convert kitchen scraps to compost
The bottom, collector tray captures "worm tea": liquid fertilizer
Easy-to-assemble and maintain
The compact, award-winning design allows you to set up the compost bin anywhere--indoors and out
How to Choose the Best Compost Bin
The best compost bin depends on your circumstances. There are a wide range of options available - from a simple compost piles to sophisticated compost containers. These are some of the factors that you need to consider when choosing a new compost bin:
Location: If a compost bin is to be near a kitchen, then a special kitchen composter may be the best type. Another consideration is whether the compost bin is visible in the garden or yard. If a compost bin is on display, then it may need to blend into the background more than a compost bin that is tucked away, out of view.
Size: The size of a compost bin is crucial to the effective making of good compost. A compost bin needs to be the right size for the amount of waste that you produce. Some people find that having two compost bins allows them to easily collect the waste and debris in smaller bins, and then allow for the full, bulk compost process in a larger, 50 gallon+ bin.
Design and type: While a compost bin may be very simple in shape and construction, different types and designs are available.These include compost tumblers which turn the compost on a regular basis.
Cost: One of the most important factors when choosing a new compost bin is cost. Of course, the cheapest compost bins are build-it-yourself options, using materials that you can find around the home. Building a compost bin at home is relatively straightforward, something that anyone with a few basic DIY skills can undertake.
Based on these essential factors for consideration, there are a wide variety of composters to choose from, regardless of whether you need an indoor or outdoor model.